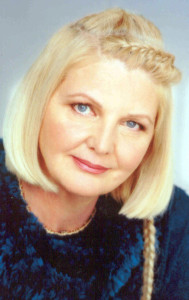 Paula Lishman is an innovative, daring designer who has worked for over 35 years manufacturing a fur yarn and designing items which, when knit, woven or crocheted, create a double-faced 'Fur Fabric', unparalleled in look, warmth and supple comfort! The fur used is taken in harmony with the natural checks and balances of nature. Paula believes in the sustainable use of Canada's precious renewable resources. www.PaulaLishman.com www.FurisGreen.com
Get up-close-and-personal instruction with this talented designer and knit or crochet your own hand washable fur yarn fashion statement! Details on colour choices and fur yarn care available with registration.
Fur Yarn: Ring Shawl – Intermediate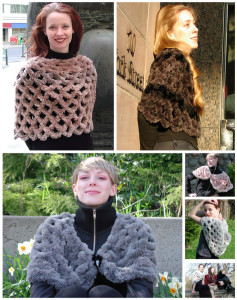 These tube shawls offers lots of versatility to the wearer. One is knit, with rows of fur tucked to the fur row below, separated by rows of knit cotton. The cotton rows in between can be done in various colours of cotton slub yarn. This is a great piece for the younger set and can be worn many ways. The other best-seller crochet version is Paula's favourite and the most versatile accessory ever! A quick crochet for an experienced 'chainer', but a project suitable to beginners too. Either way this is fur you can wear with your evening dress or watching TV in your PJs. The ultimate soft caress of beaver fur is at its most appreciated. Bring: 3.5 or 4mm, 24″ circular needles or 3.5 to 4mm hook. Kit $140 or $375
3 Hour Workshop


Fur Yarn: Scarf – Intermediate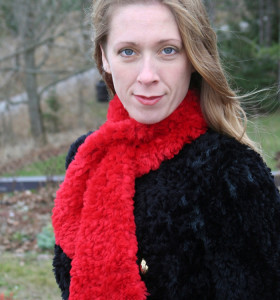 The crocheted lacy scarf is worked with fur and cotton yarn as individual stitches, rather than 'together' and is approximately 6″ x 44″. Or create a knit version, 5″ x 34″ in stocking stitch, one stitch fur, one stitch cotton, then two rows of fur. Easy for American and European knitters, or those with 2 notches in your guide finger! This version incorporates a slit for a unique effect. Either way, your scarf will be comfortable, cozy and super stylish! Bring: 3.5 or 4mm, 24″ circular needles or 3.5 to 4mm hook. Kit $75 to $100 (in sheared beaver)
3 Hour Workshop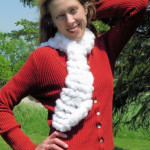 Fur Yarn: Knit Headband – All Levels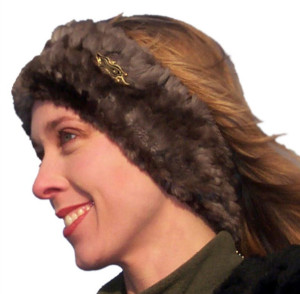 Learn to cable cast on with fur yarn and hand knit a 4″ deep rabbit, sheared beaver or muskrat and cotton headband. These are worked on circular needles and have very little finishing. This project will be treasured and keep you warm for years to come. Bring: 3.5 or 4mm, 24″ circular needles. Kit $35 to $60
1.5 Hour Workshop
Enjoy this Conference Class sneak peek!
Registration begins at the end of July when our updated website www.csnf.com is released with the class days & times. Class fees are $20 per hour (advance purchase) with kit fees extra.
Creativ Festival is returning to the Metro Toronto Convention Centre but MOVING to the NORTH BUILDING (255 Front St. W.) on new days & times! Thursday, Friday & Saturday, October 15, 16 & 17, 2015 with 5 days of Conference Classes starting Tuesday, October 13th