In the 14th century oil lamps were the only heat source available to artisans in Murano, Italy to create molten glass… yet they still managed to produce intricate glasswork. In modern times we turn up the heat as skilled artisans wield torches to wind glass around a steel mandrel.
No prior experience necessary but a liability waiver must be signed to participate.
Introduction to Glass Bead Making – Beginner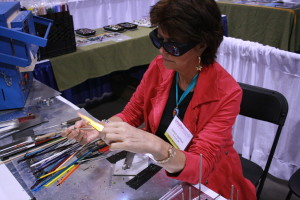 Come learn the basics of winding hot molten glass around a mandrel, creating classic bead shapes, placement of dots, pulling and using a stinger as you work on a Nortel® classic minor bench burner (a surface mix torch). Receive an overview of glass, tools, equipment and enjoy demonstrations on the use of tab beads, encasing and bead presses. Expect to take home (the next day – needs time to cool) a small amount of your own creations. As the class involves the use of an open flame, please wear 100% natural fibre (cotton), non-flammable clothing. Premium Fee $25 includes materials. 
3 Hour Workshop
Don't miss on-going demos on the Show Floor, where exquisite works of art are created right before your eyes.  Booth#1239
Enjoy this Conference Class sneak peek!
Check out our website www.csnf.com for the class days & times and to register. Class fees are $20 per hour (advance purchase) with kit fees extra.
Creativ Festival is returning to the Metro Toronto Convention Centre but MOVING to the NORTH BUILDING (255 Front St. W.) on new days & times! Thursday, Friday & Saturday, October 15, 16 & 17, 2015 with 5 days of Conference Classes starting Tuesday, October 13th