Robert Kennedy has dedicated his 25 year career in fashion to custom tailoring, pattern drafting and draping. Recently working alongside such designers as Greta Constantine, Joeffer Coac and Justina McCaffery has given Robert the meticulous ability to create and fuse many techniques in order to continue the hands-on expertise necessary to progress in the fashion industry. After 12 years, Robert continues to instruct technical classes in the Fashion Design Program at The Toronto Film School.
Draping, also known as 'modeling on the form' is a very reliable technique used to create garments. Unlike the available patternmaking methods, draping is quite unique and inspiring. Draping allows the designer to shape, mould and manipulate the fabric (muslin) through the skillful use of the fingers and hands until the design is replicated in a three-dimensional form. The designer (draper) may easily see the fit, proportion, balance and style lines of a design, exactly as it will look on the body.
Draping: Bustier – All Levels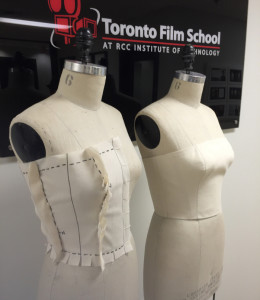 In this intimate seminar, Robert will introduce a Bustier as a first level draping project. Using muslin, dressmaker pins, black cloth draping tape and fabric shears, he will demonstrate the steps necessary to create this garment as an initial drape on an industry standard dress form/judy. Once the initial drape has been completed, Robert will demonstrate how to transfer, true and make a completed pattern ready to cut and construct. The constructed garment will be presented in various stages to allow you to view how the bustier is clean finished with fabric, interfacings, boning and lining. Bring: Pens, pencils & notepad.
3 Hour Intimate Presentation
Presented by: Toronto Film School  Fashion Design Program 

Enjoy this Conference Class sneak peek!
Registration begins at the end of July when our updated website www.csnf.com is released with the class days & times. Class fees are $20 per hour (advance purchase) with kit fees extra.
Creativ Festival is returning to the Metro Toronto Convention Centre but MOVING to the NORTH BUILDING (255 Front St. W.) on new days & times! Thursday, Friday & Saturday, October 15, 16 & 17, 2015 with 5 days of Conference Classes starting Tuesday, October 13th