Even better than an ol' rhinestone cowboy…
DIY Rhinestone Painting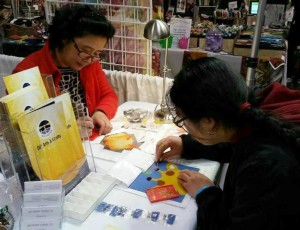 ~ Bringing the world's fashion trends to daily life through arts and crafts is our mantra! The recently introduced product line, DIY Rhinestone Painting is an innovative deco art product applied onto canvas with a cross stitch pattern imprint. Catch on-going demos and enjoy some DIY fun while creating the illusion of cross stitch with brilliant diamond lustre effects in every piece.
Location: Bayviewer Canada Ltd. – Booth #810
www.Bayviewer.com
Enjoy this Fall Creativ sneak peek!
Show floor events are free with admission. Special events are individually priced. Check out our updated website www.csnf.com for details, conference class information and to book tickets.
Creativ Festival is returning to the Metro Toronto Convention Centre but MOVING to the NORTH BUILDING (255 Front St. W.) on new days & times! Thursday, Friday & Saturday, October 15, 16 & 17, 2015 with 5 days of Conference Classes starting Tuesday, October 13th