Unravelling the mystique of glasswork, right before your eyes.
Light Up with Lampwork!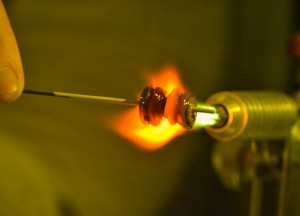 In the 14th century oil lamps were the only heat source available to artisans in Murano, Italy to create molten glass… yet they still managed to produce intricate glasswork. In modern times we turn up the heat as skilled artisans wield torches to wind glass around a steel mandrel. Don't miss on-going demos where exquisite works of art are created right before your eyes.
Location: Nortel Manufacturing Limited – Booth #1239
www.NortelMfg.com
Enjoy this Fall Creativ sneak peek!
Show floor events are free with admission. Special events are individually priced. Check out our updated website www.csnf.com for details, conference class information and to book tickets.
Creativ Festival is returning to the Metro Toronto Convention Centre but MOVING to the NORTH BUILDING (255 Front St. W.) on new days & times! Thursday, Friday & Saturday, October 15, 16 & 17, 2015 with 5 days of Conference Classes starting Tuesday, October 13th