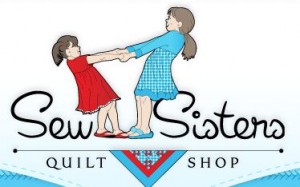 Sew Sisters Quilt Shop is located at 3961 Chesswood Drive, Toronto Ontario. They have a real shop or you can also use their online store to shop for their products as well.
Sew Sisters Quilt Shop carries quilt fabric, kits, patterns, books, notions and stitchery supplies. They also have gift certificates available for the friend or spouse who is unsure what to buy someone that loves to quilt.
The Sew Sisters Story In Their Words
"In 2000, I made an "I spy" quilt for my son that required almost 500 different pieces of fabric. I had to do a lot of shopping, trading and searching to amass the collection and when it was finished, I had both a lovely quilt and a massive amount of leftovers!
Figuring that other people making I Spy quilts would have the same problems I had finding enough fabric, I decided to sell packets of my leftover fabric online. The fabric square kits did very well, so much so that I began to think about continuing to make and sell them. I did so, and as the square packets became more popular, my sister joined me. Karen took over the shipping end of the business and soon we were able to expand the number of products we carried. "
The Sew Sisters Quilt Shop will be joining us at Creativ Festival this spring. They will be carry fabric and quilting supplies at their booth. Stop by for further inspiration and check out their selections.
Find them in booth# 105.