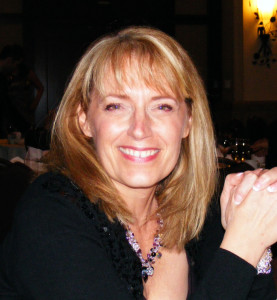 Jamie North from Calgary, AB has been designing jewellery and instructing jewellery-making classes since 2004. This owner of Glitz 'N Kitz is an avid beader whose designs have been published in many prominent beading magazines and other publications.
Metro Twist Pendant – Beginner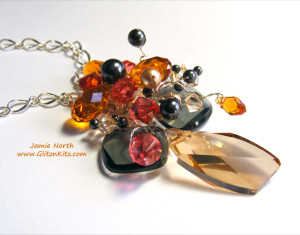 Use fabulous Swarovski Crystals and Pearls in various sizes and shapes, together with fine gauge ParaWire to create a freeform pendant. Each one is bursting with elements and will be unique, just like you! Bring: 2 pair chain nose pliers & wire cutters.
3 Hour Workshop
Cha Cha Pearls – Beginner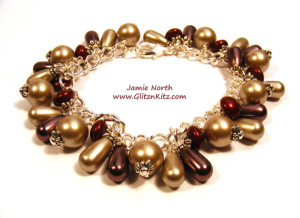 Heaps and loads of movement with this fun, elegant bracelet! Create individual 'drops' of pearls, beautifully finished with TierraCast findings, and then suspend them from chain for a delightful effect. Bring: 2 pair chain nose pliers & wire cutters.
3 Hour Workshop
Pearl Blossoms – All Levels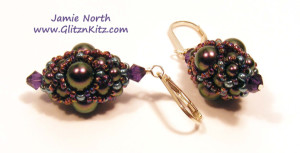 These wonderfully fun beaded beads can be incorporated into designs or used on their own for pendants or earrings.  You'll make 2 in class for use as earrings but once you know how, the sky's the limit! Some of the seed beads are small, so the use of your reading glasses and task lamp will make class much more enjoyable for you. Pre-requisite: Some prior beading experience.
3 Hour Workshop
  .
Presented by:  Swarovski, Para Wire & TierraCast


Enjoy this Conference Class sneak peek!
Registration begins at the end of July when our updated website www.csnf.com is released with the class days & times. Class fees are $20 per hour (advance purchase) with kit fees extra.
Creativ Festival is returning to the Metro Toronto Convention Centre but MOVING to the NORTH BUILDING (255 Front St. W.) on new days & times! Thursday, Friday & Saturday, October 15, 16 & 17, 2015 with 5 days of Conference Classes starting Tuesday, October 13th