Fall in love with knitting, felting and Alpaca with these two expert fibre fanatics…
---
Amy Kung Oliver is co-owner of Nuevo Norte Alpacas in Colborne, ON along with husband Eric Berg. She graduated from the Ontario College of Art with a degree in Communications and Design which landed her in advertising for the first part of her working life. That turned into jewellery design for almost two decades before she became a full time mother.
Her love of textures and colours led her to explore fibre arts, especially after her son Franklin taught her how to knit when he was 6 years old! All those experiences led to felting, which has become her passion with affection for using alpaca fibre. The marriage of different materials fascinates her and the fineness of alpaca fibre transformed into durable felt astounds her. www.nuevonortealpacas.ca
Felted Paperweights – All Levels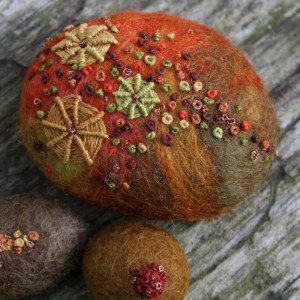 This simple introduction to wet felting marries alpaca fibre and small rocks! You'll encompass a rock with alpaca fibre with areas of reveal and once the basic felting is done, embellish with beads and embroidery. All materials provided with the chance to make more than one piece if time permits.
3 Hour Workshop
---
Holly Kenny comes from a long line of knitters and was taught by her mother and grandmother at the age of 8. She has come a long way from her first itchy wool project and has fallen in love with alpaca, discovered at Americo. Since then she hasn't looked back.
Knitting with Alpaca – Beginner
Holly shares 'purls' of wisdom in this knit lab of essential tips for knitters new to alpaca fibre. You'll knit a 100% alpaca cowl as you learn stitches that lend themselves to this fabulous fibre. Bring: 6mm needles.
3 Hour Workshop
Presented by: Nuevo Norte Alpacas  and  Dyeing for Colour Fibre Works
Enjoy this Conference Class sneak peek!
Check out our website www.csnf.com is for the class days & times. Class fees are $20 per hour (advance purchase) with kit fees extra.
Creativ Festival is returning to the Metro Toronto Convention Centre but MOVING to the NORTH BUILDING (255 Front St. W.) on new days & times! Thursday, Friday & Saturday, October 15, 16 & 17, 2015 with 5 days of Conference Classes starting Tuesday, October 13th