Distinctive designer wardrobes are yours to make.
Fashion for All Seasons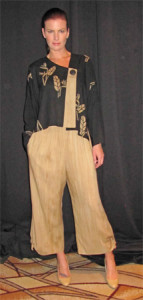 ~ No matter your age or style preference, there's something for everyone in Catherine Goetz's garment collection. Ever on the prowl for the new, the classic and the stylish, she has the patterns, fabrics and tips galore for creating one-of-a-kind signature pieces and building an outstanding wardrobe. Coats, jackets, dresses and ensembles to flatter your figure and spark your creativity are all here in one great fashion show by Distinctive Sewing.
Thu 5:00 / Fri 1:00 / Sat 1:00
Location: Fashion Runway
Enjoy this Fall Creativ sneak peek!
Show floor events are free with admission. Special events are individually priced. Check out our updated website www.csnf.com for details, conference class information and to book tickets.
Creativ Festival is returning to the Metro Toronto Convention Centre but MOVING to the NORTH BUILDING (255 Front St. W.) on new days & times! Thursday, Friday & Saturday, October 15, 16 & 17, 2015 with 5 days of Conference Classes starting Tuesday, October 13th