See what's exciting about marquetry and keep an old art alive.
Painting in Wood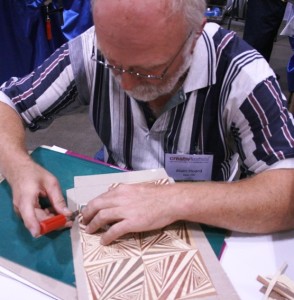 ~ Marquetry is sometimes referred to as 'painting in wood', or at Creativ… 'quilting in wood'. This incredible art form was first practiced by the Egyptians over 3000 years ago. Discover how to create enriched designs with intricately cut and perfectly placed natural coloured veneers of wood. Watch the step-by-step process to creating an image by using a fretsaw table or knife. Marquetry is a hobby that is relatively inexpensive compared to others and requires very little working space. The Marquetry Society of Canada is a club whose goal is to keep this imaginative and creative craft alive in Canada! Catch demonstrations, meet artists and find out about membership and how you can learn this exciting ancient craft. Sign up in Room 203B.
To get the total experience sign up for a class with this year's 'Lighthouse' project in a conference workshop.
Location: Marquetry Society of Canada – Booth #1227
www.MarquetrySociety.ca
Enjoy this Fall Creativ sneak peek!
Show floor events are free with admission. Special events are individually priced. Check out our updated website www.csnf.com for details, conference class information and to book tickets.
Creativ Festival is returning to the Metro Toronto Convention Centre but MOVING to the NORTH BUILDING (255 Front St. W.) on new days & times! Thursday, Friday & Saturday, October 15, 16 & 17, 2015 with 5 days of Conference Classes starting Tuesday, October 13th