Watch the experts and try your hand at some exciting jewellery techniques throughout the show with Butterfly Beads.
Kumihimo Bracelet Demo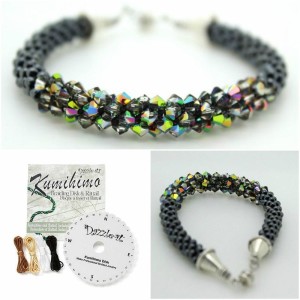 If you love jewellery and would like to learn and enhance your jewellery making skills come join us. Kumihimo is a Japanese art of braiding, is something you can do today using a modern braiding disk to produce many various styles of braid. For more patterns and lessons in the art of braiding come visit Butterfly Beads.
NOTE: Kits are available in the booth for purchase.
Thu., Oct. 15 – 3:00 & 6:30 (approx. 45min)
Fri., Oct. 16 – 2:30 & 5:30
Pinch & Twist Demo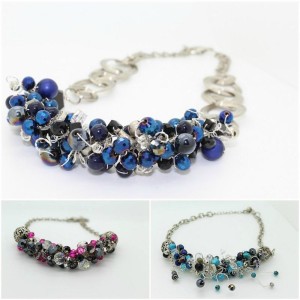 Are you ready to master the art of wire twisting to create a uniquely gorgeous piece of wire twisted necklace?  The design for these pieces is endless as you can create 3 or more variations using different types and sizes of beads. There is no specific number of twists needed to create the necklace. You can twist as many times as you like. Doing so will also create variations to the length and look of the necklace.
Sat., Oct. 17 – 10:30 (approx. 45min)
Memory Wire Bracelet ~ Make & Demo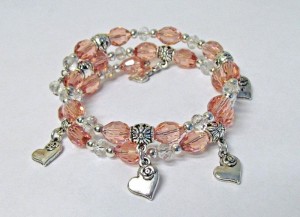 Want a fast and easy way to create a beaded coil bracelet? Memory Wire is the answer. This tempered wire holds its coiled shape, making this medium fun to create and work with. Memory wire offers great options for stringing your favorite beads and charms in an interesting array of colour and pattern. Come join us and learn how to add this to your collection!
Fri., Oct. 16 – 11:00 (approx. 45min) Kit Fee $5
Sat., Oct. 17 – 12:00 DEMO
Swarovski Garden Earrings ~ Make & Demo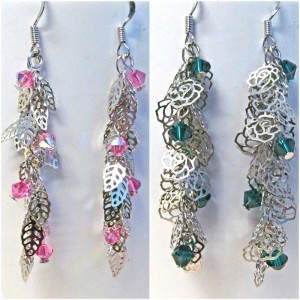 Made with fancy leaf or flower chain; these dangle earrings, with assistance of Swarovski crystals, are glamorous and nature friendly. Learn how to make these simple yet elegant everyday earrings.
Fri., Oct. 16 -4:00 (approx. 45min) Kit Fee $5
Sat., Oct. 17 – 3:00 DEMO
…and some Make 'n Takes, too!
Elegant Dangle Bracelet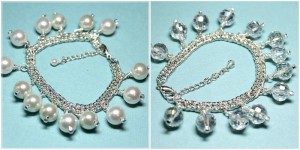 Make this Elegant Dangle Bracelet with your choice of Pearls or Crystals. You will assemble dangles on chain bracelet with jump rings and finish with a lobster clasp and extender. Demo of wrapped loop technique will be provided.
Thu., Oct. 15 – 1:00 & 5:00
Kit Fee $5
Swarovski Fireworks Earrings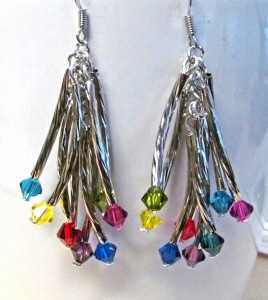 Made using spiral spacers and chain, design these multi strand 2" dangle earrings with Swarovski crystals using head pins and simple loops. It's a sleek and elegant look that will add sparkle to your wardrobe.
Fri., Oct. 16 – 12:30 (approx. 45min)
Kit Fee $5
Apoxie Sculpt Clay Pendant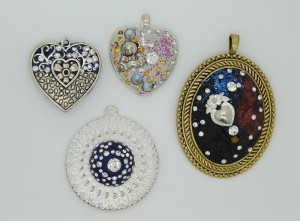 Did you know that Apoxie Sculpt is a clay that cures and hardens within 24 hours when mixed correctly? Come join us and be a part of this creation and learn  how to mix the clay colours and  how to construct a lovely pendant. We will show you how to embellish your clay with Chatons, beads, and even charms. Come visit us at Booth 616.
Sat., Oct. 17 – 1:30 & 4:30 (approx. 45min)
Kit Fee $5
.
All these events take place on the show floor with Butterfly Beads
Location: Butterfly Beads – Booth #616
www.ButterflyBeads.ca
Enjoy this Fall Creativ sneak peek!
Show floor events are free with admission. Special events are individually priced. Check out our updated website www.csnf.com for details, conference class information and to book tickets.
Creativ Festival is returning to the Metro Toronto Convention Centre but MOVING to the NORTH BUILDING (255 Front St. W.) on new days & times! Thursday, Friday & Saturday, October 15, 16 & 17, 2015 with 5 days of Conference Classes starting Tuesday, October 13th