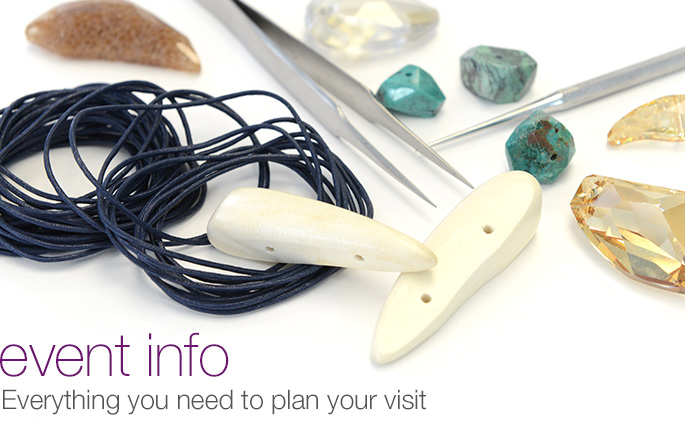 There's excitement in the air…
with an all new floor plan, exquisite attractions free sessions and activities! Plus, 4 days of conference classes! Creativ Festival… come indulge your creativity!
We're moving to the International Centre
International Centre Entrance 5
6900 Airport Road
Mississauga, Ontario L4V 1E8
4 day world-class conference
Get up-close-and-personal hands-on learning loaded with ideas, insider tips and innovation
Wednesday through Saturday – October 26-29, 2016
conference program pdf download
3 day shopping excursion
Fabulous fabrics, fibres, yarns, papers, beads, equipment, tools, books, kits, patterns, software, artisan made 'gifts to go' and more!
Thursday, October 27 – 10:00 am – 6:00 pm
Friday, October 28 – 10:00 am – 6:00 pm
Saturday, October 29 – 10:00am to 5:00pm
exhibit hall tickets
13% HST included. Available online & cash only at the door
$16 adult
$14 senior (60+)
$10 conference delegate (purchase with class)
$10 group (min order 10 tickets)
$4 youth (10-17)
3-day pass (online only) includes only 1 draw ballot
$30 adult or senior / $5 student with ID
buy tickets now!
Get in at 9am with advance tickets and you can win, one of 3 – $1,000 Shopping Sprees.
One drawn each day courtesy of… Big Village, Black Sheep and Ewe, Christine's Swedish Weaving, Creative Memories, Cozy Quilts, The Decorating Diva, Dreamtime Creations, Frog's Whiskers Ink., Grantham Books, Lens Mill Stores, Mary Maxim Ltd., Peace and Co., The Quilt Store, Ruach Crafts, Sew Sisters, Stix and Stones, Sultans Fine Fabrics,
Wool House, X's & Oh's
---


free tote bag to 1st 500 visitors each day! www.janome.ca