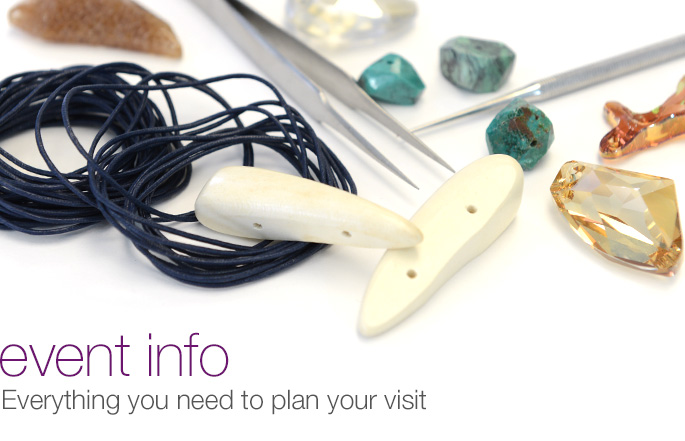 where
International Centre, Entrance 1
6900 Airport Rd, Mississauga, ON Canada L4V 1E8
with free parking!
---
when
Get in early at 9am with advance tickets and e-tickets
Friday, April 28 – 10:00am to 6:00pm
Saturday, April 29 – 10:00am to 5:00pm
---
2016 Spring Exhibitor List
ACC JEWELRY CREATIONS
AMONG BRENDA'S QUILTS & BAGS
ART TALES INC.
ARTFIL CREATIONS INC.
BAYVIEWER CANADA LTD.
BEAD ALTERNATIVE CO. LTD.
BEAD DYNASTY SUPPLIES
BERNINA OF CANADA
BIG VILLAGE
BLACK SHEEP AND EWE
BORDER CREEK STATION PATTERN COMPANY
BROTHER INTERNATIONAL CORPORATION (CANADA) LTD.
BYTOWNE THREADS
CANADA BEADING SUPPLY LTD.
CHA – CANADA SEWS
COUNTRY CLOTHESLINE
CQA – CANADIAN QUILTERS' ASSOCIATION
CREATIVE MEMORIES – MARKHAM
CREATIVE SCRAPBOOKER MAGAZINE. – BOOTH
CUSTOM BRAS
DAYS FOR GIRLS BRAMPTON TEAM
DECORATING DIVA, THE
DISTINCTIVE SEWING SUPPLIES
ELEMENT EARTH
EPOCH TIMES, THE
FABRIC PLEASE!
FABRIC SPARK
FARTHINGALES
FORKS & FASHION
FROG'S WHISKERS INK
GARDINER DESIGN
GRANTHAM BOOKS
GREAT NOTION SEWING SUPPLY LTD., A
H.A. KIDD AND COMPANY LIMITED
H.A. KIDD AND COMPANY LIMITED / UNIVERSAL YARNS
HAMELS FABRICS & QUILTING
HAWAIIAN MOON
HUSQVARNA VIKING (SVP CANADA INC.)
HYPERLYNKS
I.D. JEWELRY AND DESIGN
INSPIRED GETAWAYS
JANOME CANADA LTD.
JEWEL 88.5, THE (CKDX-FM)
KALLISTI QUILTS
KASHMIR MAPLE
KATHYRUDDY.COM
KAWARTHA QUILTING SYSTEMS
LABOURS OF LOVE HEIRLOOM SEWING SUPPLIES
LEN'S MILL STORE – WATERLOO
LINES DISTRIBUTORS INC./ DAYLIGHT COMPANY
LOCAL KING RUBBER STAMP
MacPHEE WORKSHOP LTD.
MARQUETRY SOCIETY OF CANADA
MARY MAXIM LTD.
MASON SEWING MACHINES – Baby Lock
MASON SEWING MACHINES – Handi Quilter
NEEDLE PULLING THREAD, A
NEW HAMBURG MENNONITE RELIEF SALE
NORTEL MANUFACTURING LIMITED
NOSTALGIA GIRL DESIGNS
PASTIME PIECES
PAULA LISHMAN FUR YARN
PEACH BERSERK
PFAFF (SVP CANADA INC.)
PIXIE MOOD INC.
POWERTEX CANADA
QUEENIE'S DESIGN
QUILLS INVITATIONS & FINE PAPERS
QUILT STORE, THE (EVELYN'S SEWING CENTRE)
QUILTERS' LINE
QUILTER'S NINE PATCH
QUILTING BEE QUILT SHOP, THE O/A INNOVA LONGARMS
R & W INTERNATIONAL INC.
REDFERN ENTERPRISES – IQ HAND VAC
REDFERN ENTERPRISES – IRONS
RENAPUR CANADA (Bee Magic)
ROLAKE YONGE
RUACH CRAFTS
RUBY PEARL QUILTS
RYPAN DESIGNS
SCRAPBOOK & CARDS TODAY – BOOTH
SELECT MARKETING CANADA LTD.
SEW FANCY INC.
SEW SISTERS QUILT SHOP
SewEtc
SOUTH HILL DESIGNS
STITCH IN TIME, A
STITCH PLEASE
STIX AND STONES YARN BOUTIQUE
STUDS FOR YOUR DUDS
SUSAN STORTINI – ZENTANGLE
SVP CANADA INC.
THAT BEAD LADY
TMC RESTORATIONS
TORONTO STAR, THE – BOOTH
UNIDEM SALES INC. – Ruby Cosmetics
UNIDEM SALES INC. – Smart Living Steam Mop & Steamer
VALERIE MILLER QUILTED COVERS
VISCOUNT WOODTURNING
WHIMSICAL TOUCH
WONDERFUL NETWORK (CANADA) LTD. O/A WONDERFIL™ SPECIALTY THREADS
X'S & OH'S
YORK HERITAGE QUILTERS GUILD & QUILTS AT THE CREEK
---
free seminars, how-to demos & make 'n takes
No advance registration is required for our 30 to 45 minute long seminars, demos and mini workshops. Seating is on a first come basis. Plus, enjoy the many interactive demos and activities taking place in booths throughout the show floor! For details see our "free sessions" tab.
---
exhibit hall tickets (13% HST included)
Available online & at the door
$16 adult
$14 senior (60+)
$10 group (minimum order 10 tickets)
$4 youth (10-17)
2-day passes
Online only, include only 1 draw ballot
$25 adult or senior
$5 student with ID
Why buy advance tickets?
1) Get in early at 9am
2) Be eligible to win 1 of 2 – $1,000+ shopping sprees (1 given away each day just before 10am)
---
$1000+ shopping spree
Exclusive advance ticket prize made possible thanks to…
Big Village
,
Black Sheep & Ewe
,
Bytowne Threads
,
Country Clothesline
,
Decorating Diva
,
Fabric Please!
,
Frog's Whiskers Ink
,
Gardiner Design
,
Grantham Books
,
Len's Mill Store
,
Local King Rubber Stamp
,
Mary Maxim Ltd.
,
Paula Lishman
,
The Quilt Store
,
Ruach Crafts
,
Ruby Pearl Quilts
,
Rypan Designs
,
SewEtc
,
Stamping Jo
,
Stitch Please
,
WonderFil Specialty Threads
, and
X's & Oh's
.
---
volunteer rewards program
It's your opportunity earn reward points redeemable for admission, classes and special events at future shows.
---
you could win fabulous door prizes…
Deposit ballot received with your admission ticket in the ballot drum at booth #100. See rules & regulations posted. Thank you to…
$869 Rachel Sewing Machine

$500
Gift

$200 Gift Certificates

$500
Gift

$500
Gift
---
plus, a chance at the $3300 grand prize…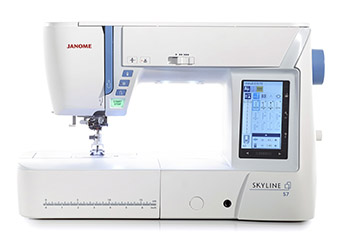 The Skyline S7 is ready to make your sewing dreams come true…. Piece, Quilt, Appliqué, and more… follow Thread Riding Hood's blog to witness the sewing magic!
Compliments of…